Sophie Christiansen CBE | Flexars
5 world titles, a massive 8 paralympic golds, an MSc in Mathematics and a CBE; these all belong to one superstar, Sophie Christiansen. 
Sophie was born two months prematurely with Cerebral Palsy and suffered from other health problems including jaundice, blood poisoning, a heart attack and a collapsed lung. At aged 6, she started riding for physiotherapy at the local Riding for the Disabled Association (RDA) group. She first competed at the Paralympics aged 16 and was the youngest athlete for Great Britain at the Athens Paralympics in 2004, coming away with an unexpected bronze medal. Wow!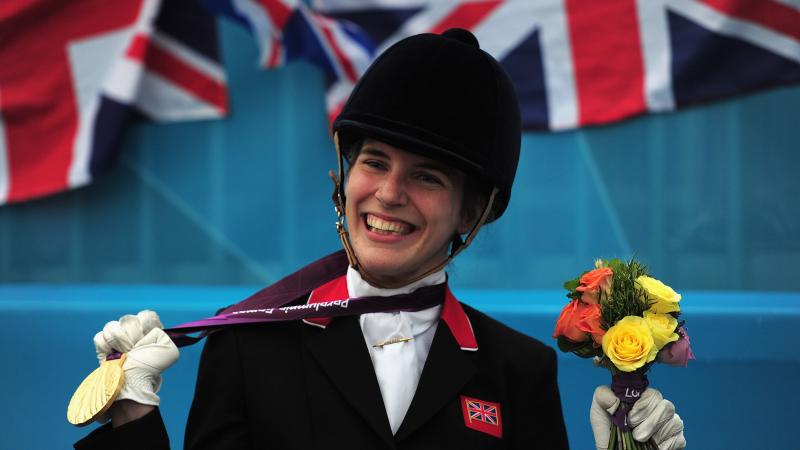 (Photo copyright: https://www.paralympic.org/sophie-christiansen)
We have been proud sponsors of Sophie for a little while now, but have recently decided to step it up a notch and use our platform to fundraise to help her get to the postponed Paralympics: Tokyo 2021. Without her sponsors and Team Sophie, it would be impossible for her to compete. 
We would love to get our customers involved in Sophie's journey, so we have just added an option to our website where our customers can choose to donate money to Sophie when they make a purchase. So customers can grab a new pair of leggings from us, and be a part of Sophie's journey to Tokyo 2021 at the same time. All money raised will be donated directly to Sophie; and throughout the month of January we will be matching all donations made! 
How it works:
It is really easy to donate, just get to the 'payment' section at the checkout, and choose the amount you want to donate. You can add as little as 1% of your order, but every little helps and it all adds up!
We recently met Sophie and her team for the first time, and absolutely loved them! They showed amazing teamwork, and we were in awe of Sophie and her horses the entire time. We are thrilled to be able to help Sophie, and are thankful to any of our customers who choose to donate to Sophie.
Here are some photos from our visit:
From left to right, Ellie (Flexars), Anna (Sophie's Coach), Sophie, Georgie (Sophie's PA) and Loraine (Flexars).
Sophie on Louie.
Anna, Sophie on Stella and Georgie. 
Sophie on Stella.
Photos by https://www.laurawoodrow.co.uk